PRODUCTS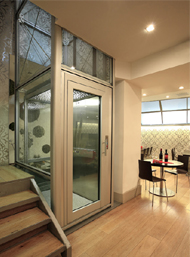 Villa Elevator
...
Tel:0086-56361008 56771008
Fax:0086-512-5879 5609
E-mail:sales@cnnovaelevator.com

Nova villa elevator adheres to the top-tech in the world's private elevator field. It inherits the classical international design concept and deducts a luxurious dream in your home art. It grants a full play of an overall supreme quality at your home.

Nova villa elevator integrates the art, pragmatism and the character of time into one. The machine room-less elevator enhances the degree of freedom to the architectural design. It is safe and reliable from the pit-less and run-through doors design. It is the most ideal up and down transport tool for the aged, the sick, and the handicapped. The pleasing decoration invents a overall harmonious effect to the indoor decoration. The highly efficient traction machine is integrated with variable voltage, variable frequency control and microprocessor control technology of high speed processing capability for accurate transmission of Nova villa elevator enable your family enjoy smoother, securer and more comfortable service.

Nova creates a clean and bright space which perfectly matches into harmony of your home. It adds more of the elevator interest and fulfills your villa elevator dream. Nova villa elevator lets you fully enjoy the wonderful life.


Excellent Performance
1. More efficient use of building space: machine room-less innovative design, compact arrangement and space-saving, installation in any building without hoistway.
2. Pleasing decoration: thorough car design, the rich material and a diversified combination
3. Safety and comfort & Environmental protection: maintenance-free and non-pollution permanent magnet synchronous and gearless traction machine


4. High efficiency, energy saving, comfort: 220V normal voltage, 1.1KW low energy consumption, variable voltage and variable frequency door governor system, low noise and low vibration, reasonable design of air conditioner
5. Easy and simple operation: the multiple door open modes for the users
6. The humane interface design: touch type operation button with the concise and eye-catching control panel, a service button, emergency stop button and an alarm button.